Hello there...
It's pretty late at night but I I can't seem to close my eyes so I'm gonna make a new blog post instead. It's another Whitening Soap from Philippines called GlutaMAX Lightening Soap with Glutathione. Glutathione is also one of the popular ingredient for whitening products like Kojic Acid and Arbutin and it's also a powerful anti-oxidant.
Description:
A premium skin lightening product formulated by the experts using the advanced technologies to safely provides maximum results. GlutaMAX Lightening and Anti-Aging Soap gently lightens uneven skin tone and discolorations while revitalizing and restoring the youthful vibrancy of your skin. With continued use, skin becomes visibly lighter, smoother, and blemish free!
Ingredients:
Sodium soap from vegetable oil, Salicylic Acid, Sodium Lactate, Sodium Methyl Cocoyl Taurate, Fragrance, Octadecyl Di-t-Butyl-4-hydroxhydrocinnamate, Potassium Cocoyl Glycinate, Tetrasodium EDTA, Titanium Dioxide, Methyl Paraben, Ethyl Paraben, Butyl Paraben, Phenoxy Ethanol and Reduced L-Glutathione.
Directions:
Use GlutaMAX to wash face and body. Lather for at least 3 minutes then rinse well. Pat dry with a clean towel. Store in a soap dish with cover. Use with other GlutaMAX products for best results.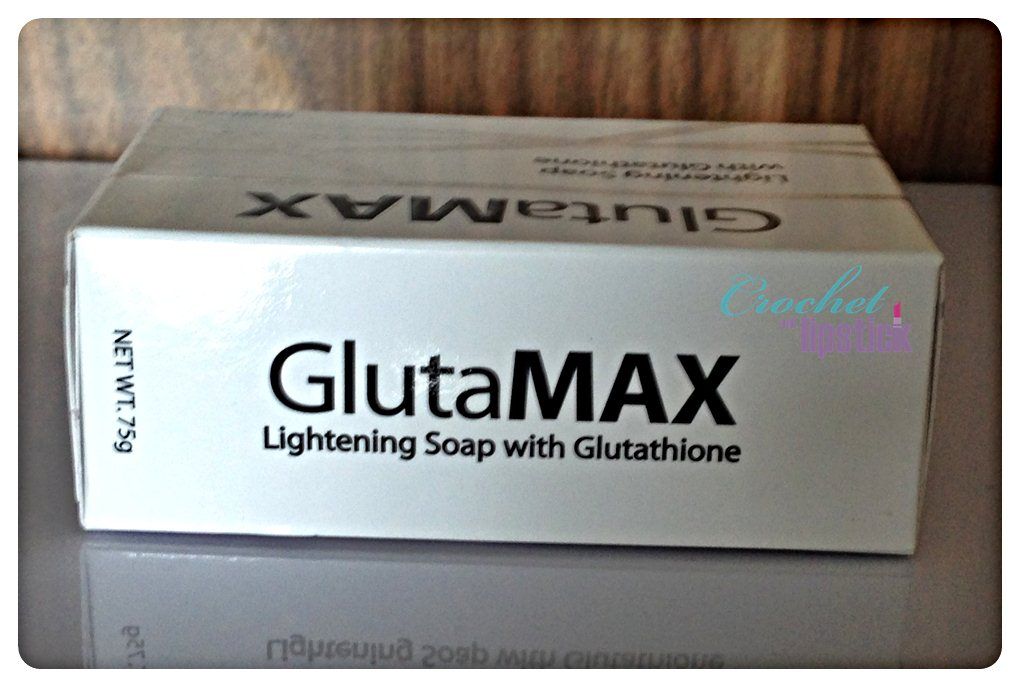 Packaging:
Nothing special... But then again you don't need an over the top packaging for a bar soap. The "GlutaMAX" label is written super big so you'll notice it from afar... I like that... Even though I can't really buy it at local supermarket in here.
The Soap:
The one that I got is not too big (70 gr) and it's perfect for my hand. I don't like it when a soap is too big because I have to cut it in too otherwise it'll be pretty awkward when I use it in the shower. The scent is really good too... It has a nice flowery scent. When I use is it on my face I didn't get any stinging or sensitivity which is great and my face looks brighten afterwards too. But only temporary though... Kinda like how your skin looks really brighten up after you use peeling gel.
As for my body... I don't have any reaction to the soap too and it doesn't make my skin dries. My skin begin to exfoliate after about a week of using this soap. Kinda slow compare to the other Philippine's Whitening Soap that I've tried before and the whitening results is also slower than the previous soap. Oh... FYI my indicator of the whitening effect isn't depends on whether I get fairer or not because my skin is already pretty fair (or even pale maybe? IDK) but I have uneven skin tone and some hyper-pigmentation from scars and bug bites so I use whitening soaps to lightens those scars.
After I finishing a bar of this soap I only see minimum results but then again it is recommended that I use the GlutaMAX Lotion and Supplement along with the Soap to get maximum results. Even though the results is not as visible as other soap I still like it because it smells really good and it doesn't irritate or dries my skin at all..... OOhhh almost forget.. The soap has one annoying problem.... It melts easily!! You have to keep it really dry and far away from the shower otherwise it'll melt and get soggy.. Ewwgghhh...
Where to Buy?
I got it as a gift but you can buy it at
Baterflai Tat
How Much?
Rp. 80,000 for 70gr but you should check her
Facebook Notes
again in case there's a change in price.

or maybe visit my Shop