I've used this mascara for quite some time now and has been repurchasing it too. So far this is my favorite mascara aside from Holika-Holika Magic Pole Mascara.
False Lash Effect's biggest brush ever doubles lash size appearance vs. bare lashes.
Waterproof formula is great for the pool or beach.
Patented Liquid Lash™ formula coats lashes from root to tip.
No flaking or smudging gives lovely lash confidence.
Ophthalmologically tested.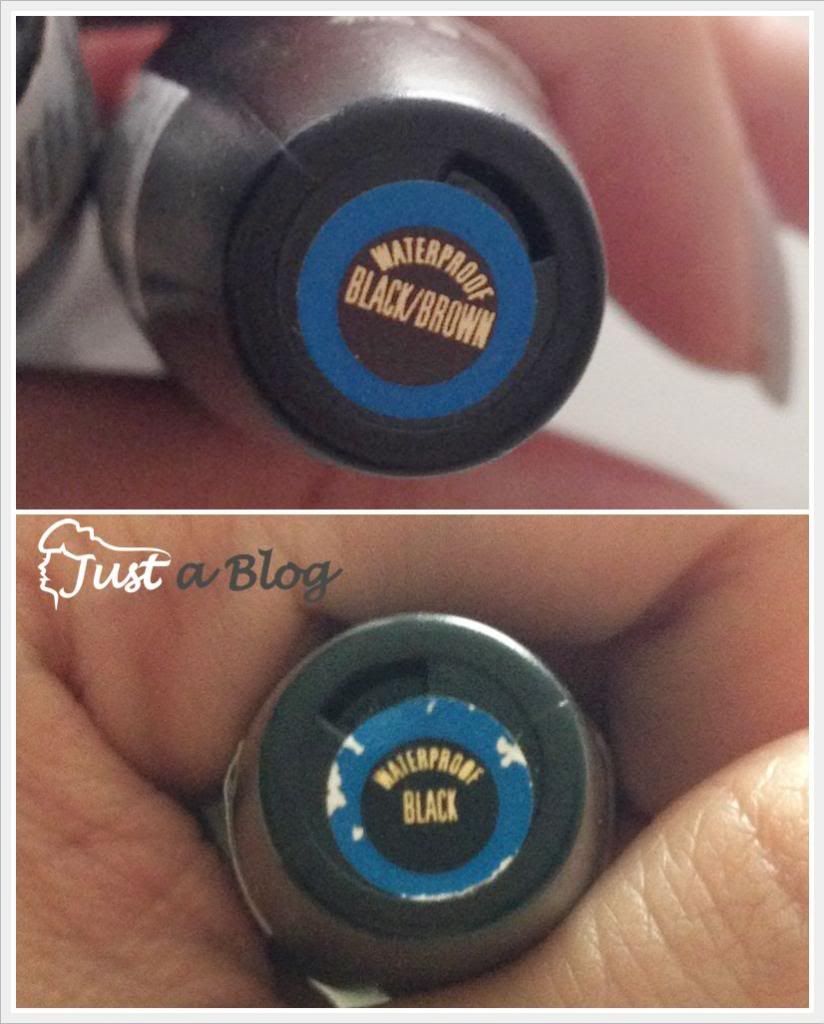 There are two shades of this mascara: Black and Black/Brown. I prefer the Black though.
Left: Black Right: Black/Brown
Here's the swatch.
The Wand:
The first thing I notice from this mascara is that how big the wand is!! This bigger wand is supposed to double the lash size appearance. At first it was a big awkward to coat my lashes using the wand since it was so different from my previous mascara especially if I want to do it on my bottom lashes but eventually I got the hang of it. The wand is made of rubber (or plastic?) and it suppose to separate lashes easily. Which it does!! The wand also takes a quite amount of product so I have to scrape it first before I use it especially on the top flat part of the wand (seen on the picture above).
How to Apply:
Use an eyelash curler before applying mascara to shape your lashes and open up your eye area.
Look down into a mirror and work the mascara wand from side-to-side, root to tip.
Look up and apply to your lower lashes. Use the ball tip of the wand to coat each lash for a defined look.
Wait until tacky before applying a second coat to your upper lashes.
Aqua, Acrylates Copolymer, Glyceryl Stearate, Disteardimonium Hectorite, Propylene Glycol, Stearic Acid, Cera Carnauba, Triethanolamine, Polyvinyl Alcohol, Synthetic Wax, Lecithin, Propylene Carbonate, Oleic Acid, Alcohol Denat., Benzyl Alcohol, Panthenol, Ascorbyl Palmitate, Tocopherol, Phenoxyethanol, Methylparaben, Ethylparaben, Sodium Laureth-12 Sulfate, Propylparaben, Disodium EDTA, Tetrasodium EDTA, Xanthan Gum, Simethicone, Potassium Sorbate, EDTA, [+/- Cl 77007, Cl 77491, Cl 77492, Cl 77499].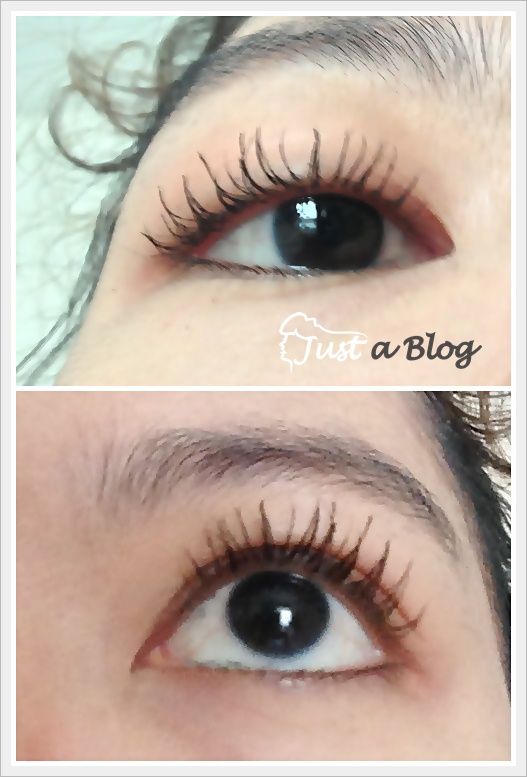 Top: Black/Brown Bottom: Black
The mascara itself has a bit of a weird scent but I don't buy it because of the scent anyway so it didn't bother me that much. Most of the time I didn't notice unless I sniff it, but who sniff mascara anyway right?? Aside from the weird smell which I didn't care about, this mascara is super awesome!!! It makes my lashes looks fuller, longer and thicker!! All in one mascara!! The wand also separate my lashes nicely and people really does think that I wore fake lashes on!! LOVE LOVE LOVE!! Also even though I sometimes use several coats it doesn't makes my eyes feels heavy or weird and it doesn't bother me when I wore soft-lenses too.

But.... On a side note though, this mascara has a runnier texture than most mascara so I have to be careful when applying it on my lashes and wait for it to dry. At first I blink the second I put on this mascara and I got a huge transfer on my lid. Thankfully I didn't use eye shadow that time so I can remove it without ruining my eye make-up. So this mascara looks super awesome but I have to use it very carefully, not good when I'm in a hurry but WTH I don't mind a bit late as long as I have awesome lashes!! #LOL

As for the color if I only use a coat the Black/Brown looks more natural than the Black but if I use several coats then the Black/Brown kinda looks like Black too. I generally prefers the Black one though because it gives a bolder look.
Ohh baby yess...!!! If you're looking for a real waterproof mascara this is the one that you want to get!! This mascara won't budge even if you go swimming at the pool or even at the beach!! I can use it all day long without even smudging or transfer on my bottom lashes and I have an oily lid!! Most mascara even the one that claims waterproof bleeds on me and make me look like a panda. Note that PANDA!! Not Taylor Momsen.... #YouWishSekar
Well.... Like any other waterproof mascara this one is a bit hard to remove using regular make-up remover. I have to use the one that has two liquid in it and you have to shake it first to remove the mascara slowly and gently. I also use Olive Oil, Rice Bran Oil or Grape Seed Oil to remove this mascara and they works fine too. But..... Recently I found a super awesome make-up remover that can remove this mascara in a flash!! What is it?? I'm gonna tell you guys on another post he he he...
Aside from the cleansing problem (at first) I still really like this mascara and it's been my HG mascara for almost two years now. My eyelashes has never look so awesome before!!
- gives longer, fuller, and thicker lashes.
- separates lashes nicely.
- smudge proof.
- waterproof.
What I Don't Like:
- I have to use it carefully.
- A bit hard to cleanse (although not anymore now he he)
Ohhh I have done it over again!!
At local Max Factor Counter
IDR 150.000 (
£10.99/US$15)