As you guys can see from the post title, I'm gonna share about my journey and experience in dealing with acne. How I use to look like, how my skin condition use to be, my skin problem and how I deal and struggle with acne. So beware I think it's gonna be a pretty long post and lots and lots of photos.
At young I never had any skin problem, even when I'm in junior and senior high school I almost never use moisturizer. Just sunblock and I even often forget to put in on. I don't put up any make-up whatsoever on my face, my usual routine are I wake up - take a bath - change clothes - put on sunblock (if I remember) - put some lipbalm - spritz some body mist - go to school.
Aside from the occasional acne that comes when I have my monthly period I don't really have acne problem. My skin is pretty normal too, not oily and not dry so I never bother to put on any moisturizer. I'd rather save my money to buy manga he he he (I'm an otaku!! >.<)
I started to get self conscious about beauty stuff at 17 I guess, it's my 3rd year in high school when I started to use moisturizer, sunblock, and some compact powder more regularly. But still... there's nothing wrong with my skin.
At my University days I get more and more conscious about my skin and appearance so I started to wear some mascara and lip gloss to campus. But my skin is pretty much still okay and normal.
Me 2008
This photo is taken in 2008, I think it was a few months before I graduate. As you can see my skin look pretty normal. I don't alter this photo in any way whatsoever. I just put on compact powder and lip gloss, I don't even put any other stuff like eyeliner, mascara, eye shadow, foundation and blusher. In fact I don't own any!! I just use what my mom have at the time hehehe...
January 2009
After I graduate I cut my hair real short as a good luck charm he he he... I don't put any make-up on in this photo. I think this was taken at my family friend home in Malang before I went to Jogjakarta for my master degree.
April 2009
This is taken 4 months after I went to Jogjakarta for my master degree. I only put on some compact powder and lip balm in this picture, but at that time my skin was actually getting more oily and I started to get pimples every now and then. I just thought that it was my body adapting to the new environment.
June 2009
Just two months after the last picture you guy can see that my cheek and forehead had a lot if redness, pimples and blemishes. GAAHHHH!!!! By this time my T-Zone is getting more and more oily and my U-Zone is getting more and more dry to the point that my skin in the U-Zone or jawline is chapped. I have to use two different moisturizer for that area. *sighh..... I think I'm not suited to live in Jogjakarta. Oh.. Yeah almost forget at this time my hair falls more often than usual too and I'm having backne (back acne) ALL THE TIME!!! They just never gone!! I mean they are big and red and stings!!
Luckily my dad is a dermatologist so I can save money for the acne but I can't really treat it since I can't come home often to consult with my dad and have him to look at my skin. Plus I don't really wanna go to a local dermatologist since I'm saving money and don't wanna to bother my dad at the time. (Big Mistake)
Because I don't wanna consult to a local dermatologist my dad suggest that I take Zinc supplement and antibiotics that I take twice daily to suppress those nasty acne. It kinda helps, but if I forgot to take the antibiotic the acne comes in a nasty way!!
June 2010
This was taken at June 2010, my skin is pretty good because I just come back from holiday and getting treatment from my dad. I look pretty happy because my acne is gone and take some picture to celebrate myself, but boy if I only knew what was coming.
BTW about the treatment from my dad, the treatment is he give me vitamin C injection and also inject my acne with some medicine which HURTS LIKE A B#*@H!! I mean... Come on..!! You have acne all over your face!! So he has to inject it ONE BY ONE!! OMIGOD it felt like a torture!! But by tomorrow all that swearing and cursing turns to praising since those acne are GONE!! I mean the big, red and stinging acne are gone!!
HAPPY???
NOTTT!!!
WHY??
Because when I'm back to Jogjakarta again those acne are welcoming me again.... Those nasty, itchy, big, red ACNE!! Since I can't come home often to get those free treatment my skin are getting more and more worse. It became more dull, those acne are getting red and itchy and I have a lot of redness on my face. To top it off the usual "free" acne cream from my dad isn't working anymore and I have to change prescription.
March 2011
This picture looks pretty nice but I actually had a huge cover up!! But you can still actually see the huge pimple on my chin.
March 2011
This is what my skin actually looks like, I only use compact powder so you can see the blemishes on my cheeks, chin and forehead. I'm actually super tired in this photo, I have baggy eyes and black circles. But this is my skin at its best condition. It's getting downhill from this point onward...
Since I don't wan't to depend on those antibiotics to suppress my acne I started to stop using those but still takes the Zinc supplement since it helps to dries acne and help with hair and nail growth. As you can guess my skin is getting more and more dull, the acne are hideous and itchy and the redness.. OMG the redness goes all over my face since those redness surrounds the acne which surrounds my face. Kinda like a vicious circle.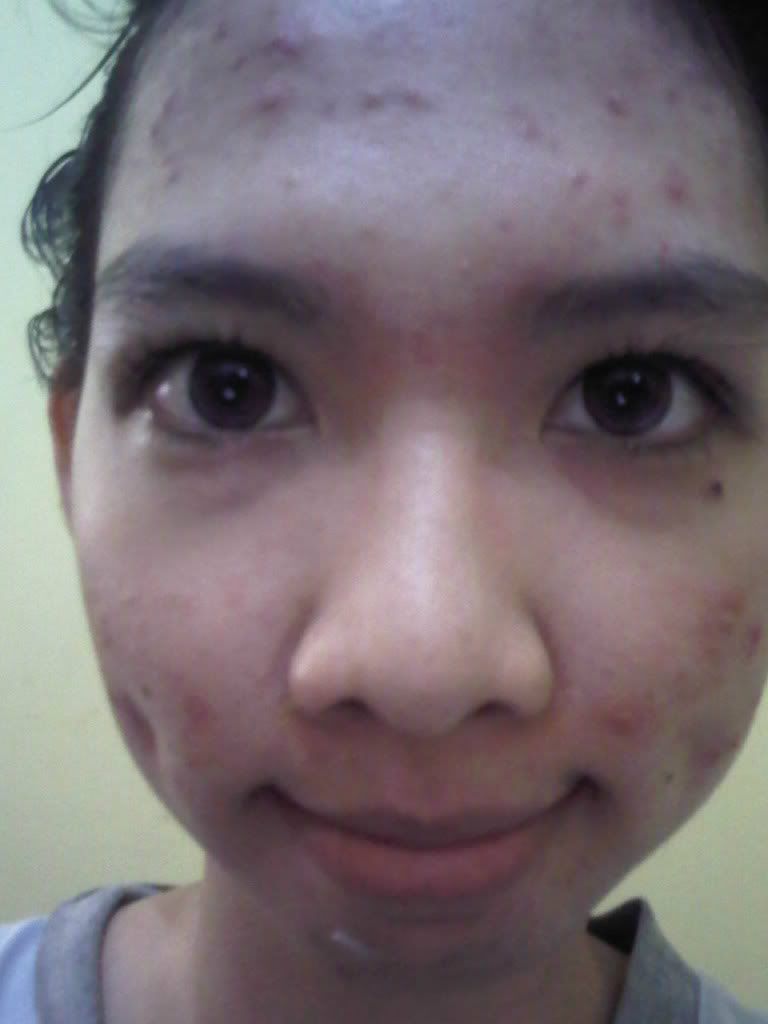 October 2011
October 2011
Dear GOD!! Take a look at that!! The downhill of not taking those antibiotics. The acne cream isn't working at all... The acne just keep on coming... My dad's usual acne cream is too harsh for my skin and the other acne cream prescriptions are useless... But on January 2011 my little brother is continuing his study as a medical doctor to become a dermatologist, and he suggest that I use tretinoin to treat my acne problem. My father afraid that it will be too much for my skin but I thought what the hell... I've already become like this, one or two more skin problem won't matter anymore.
My brother suggest that I take 0.025% of tretinoin and bought me Vitacid (review
here
and
here
). He warns me that this stuff will give me purging, which means I'm gonna have more and more acne before my face heals. But I just don't give a care anymore and just gonna take a plunge....
There are several other things that he warns me about this product besides purging:
- do not use it with any other acne products,
- do not wear it at day because contraindication problem
- do not forget to wear sunblock
- use it as thinly as possible all over your face
You know when he warns me about the purging problem I only take it lightly since I though what's the worse that could happen right?? I felt like I wanna slap myself when I think about it now... The pictures below are my purging only after a few days I started using Vitacid.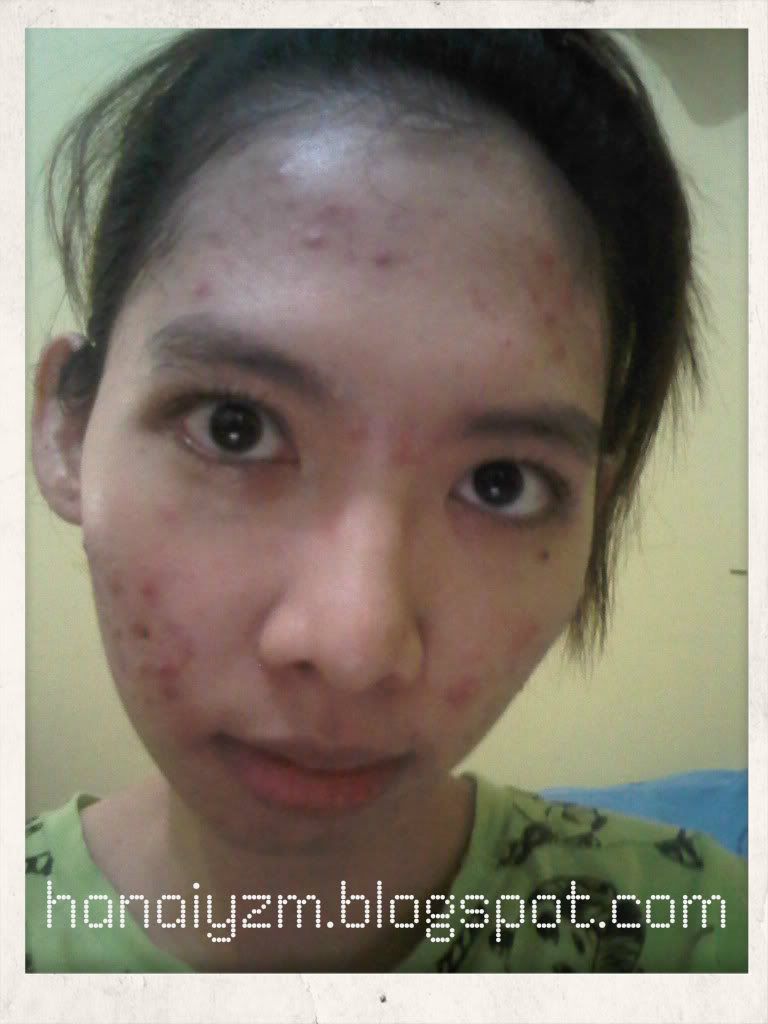 October 2011
October 2011
October 2011
October 2011
Those white thingy that you see on my cheek is actually my chapped skin!! The purging is reallll baddd... I have acne on my cheek, chin, forehead, brow, jaw and even hairline.
November 2011
This is one month after I started using tretinoin, I still have acne but my skin condition is started to change. My T-Zone is getting drier but my dry U-Zone is like a desert!! It's super duper dry!! My usual moisturizer and facial aren't working anymore and tretinoin irritates my skin too. Around this time I started to find more natural ways to help heals my acne along with tretinoin and find another facial wash and moisturizer that doesn't irritate my face more and helps to reduce tretinoin irritating effect.
I can't use facial wash because it stings, I can't use cleansing milk because it stings even more. By this time I heard about cleansing oil and started to use Kose Softymo Speedy Cleansing Oil (review
here
) that helps a lot because it doesn't irritate my face and to moisturize my face I started using Egyptian Magic Cream (review
here
).
Extra Picture of Me and My Brother
Here's an extra photo of me and my brother. Yeahh he has acne problems too and super lazy!! But he takes care of me hehehe... We're going to Solo by Prameks (Prambanan Ekspress) in this photo, it's out first time. He stops to Jogja first from Surabaya because he doesn't want me to take the train alone to Solo. *so sweet!!! You guys still can see my acne and blemishes right?? But the redness is covered by the sunlight hehehe...
November 2011
This picture is taken about a week after the last photo. EMC do wonders for my skin, my T-Zone is moisture enough and my U-Zone isn't dry and chapped anymore. You can see that my acne are reduce greatly but I still have to deal with the blemish marks and redness. At this time I also started to increase the tretinoin dose to 0.05% because I think my skin is starting to adapt to tretinoin and thankfully the 0.05% works better than the 0.025% and I bought the 0.1% tretinoin too in case a big acne pops up I will dab the acne with this cream.
November 2011
This photo was taken about two weeks after the photo before, my acne is mostly gone but I still have to deal with the redness. To deal with the leftover problems I've started to try those natural products that I've browse before but still do not dare to try it. These are what I found:
- honey, cinnamon and nutmeg mask (review
here
)
- yoghurt and honey mask (review
here
)
- saripohatji (review
here
)
Most of them are mask and they really helps me to calm the redness and acne.
November 2011
This photo was taken two days after the last one. The redness is become much much better although I still have some acne here and there. Just zap it with the 0.1% and they will gone. Unfortunately I still have problem with backne (back acne) and I can't really put tretinoin on my back by myself can't I? So I search some more natural remedies for backne and find that ACV (Apple Cider Vinegar) is great for your backne and your face acne. So I put some ACV on a spritz bottle and spray it on my back every morning and evening. The smell is unbearable but I get used to it eventually.
I can't really show you the picture of my back though but it's basically the same with my face, only instead of using tretinoin I put ACV on my back and let it dry. After about a month or so my back is getting smoother and has less acne, only about one or two pimples and since I'm getting a success with my backne I try using ACV as a facial toner on my face. I have two toner recipe that I search online:
1. ACV and rose water toner (recipe
here
)
2. ACV and green tea toner (recipe
here
)
This toner works really well with my skin and help me to heal existing acne and prevent those nasty acne from coming back. Besides as a toner, I also use ACV for my hair, facial mask and tonic. I post about it
here
.
January 2012
Yeah I know... You can still see my blemish marks and some redness. But my skin condition is actually never better!! My T-Zone isn't oily anymore and my U-Zone isn't super dry!! Although it still get a bit more oily in the T-Zone area than other area at my face but it is far better than few months ago. No more acne going back aside from those "monthly" period but it's only one or two and it heals quickly without leaving any new blemish marks.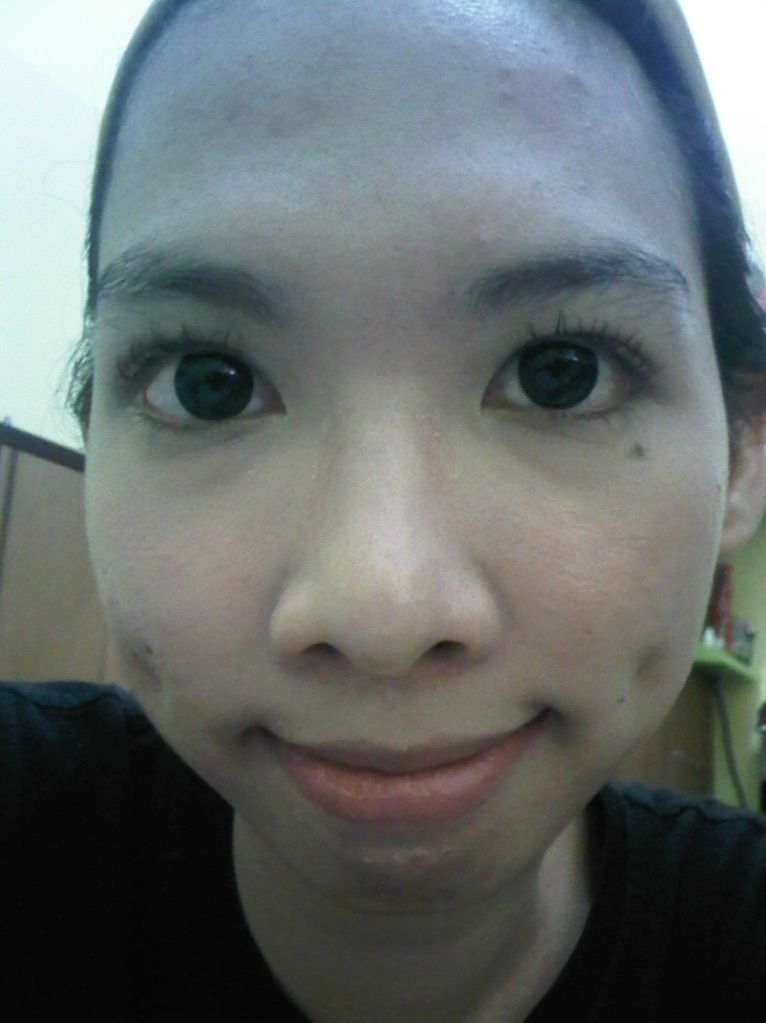 February 2012
I actually cheated by putting bb cream in this photo but as you can see there's no pimple. Whhoopppsieee.. There's one in my chin.
April 2012
I use bb cream in this photo too... I have a few redness in my face after going out in the sun for too long and forgot to put on extra sunblock.
September 2012
This is my latest bare face, I actually gonna use this photo to make a review on The Skin Food Platinum Grape BB Cream. The huge spot on my forehead is actually a mosquito bite and not acne if you're wondering XP... My blemish marks is still visible and it's getting more and more clearer.
Finally... It's the end of my journey with acne...
I don't know if you or anyone is interested with my story but I just wanna share my experience here and if you're having acne problems like don't give up and keep trying. I find that a combination of chemical (man made) product and natural products do wonders for my skin and of course my wallet. He.. He.. He..
Oh.. one more note on tretinoin. I still use it but not like other people, in order to put it extra thin to my skin my brother recommended that I put tretinoin on a damp face. So after I put on my toner I don't wait for my face to dries but put the cream right away so I can put it in extra thin layer. By using this method I my skin doesn't irritate much and I can put my skin emulsion without using EMC anymore at day.
Why I don't use it anymore? It's good for my skin but I have to wait several minutes for EMC to absorb to my skin, it doesn't matter at night since I'm going to bed, but at morning/day it's a bother to wait. Plus I have super long skin care routine at morning (facial wash - toner - serum/essence - emulsion - sunblock - bb cream - powder) and waiting for EMC to absorb will add more time for my prepping time. (>.<)
Thank you for reading this uber long post....
Do you have problem with acne too?
How do you handle it?