Hello beauties!!
Based on the comment from "
My Sample Pile
" post I decided to make a review of this one first. This review was requested by Leonita from "
Black Blue Blizzard
". Go visit her blog sometimes!!
Product details and use taken from
here
:
This triple functional BB cream not only protects your skin from UV rays but also contains adenosine and arbutin which firms and brightens skin, and has platinum with grape cell extract providing skin elasticity. This BB cream creates a vivid and attractive skin and keeps your skin moisturized and shined all day long such as you apply the essence.
To use :
After your daily skin care, put a portion of the cream and apply it around outward along the facial textures.
Here's what it looks like on my hand, I think this sample is in #1 light beige because the back side is in Korean and I only notice there's number 1 in it.
The right side is where I put this bb cream after it blends. I think it match pretty well with my skin tone and blends easily.
I'm actually a bit ashamed of showing you guys my actual skin from this angle. Aagghhh!!! You can see my acne scars really well!! Oh well...
This bb cream has medium coverage in my opinion, covers my blemish marks well. But of course if you look at it really up close like the picture above it doesn't seem like it cover much.
Phewww... here's more looks on my left cheek. BTW this picture is only before and after I put bb cream, I don't put any concealer before and I don't put any powder on my face. BB cream only....
There's a bit of redness on my chin and this bb cream covers it well too...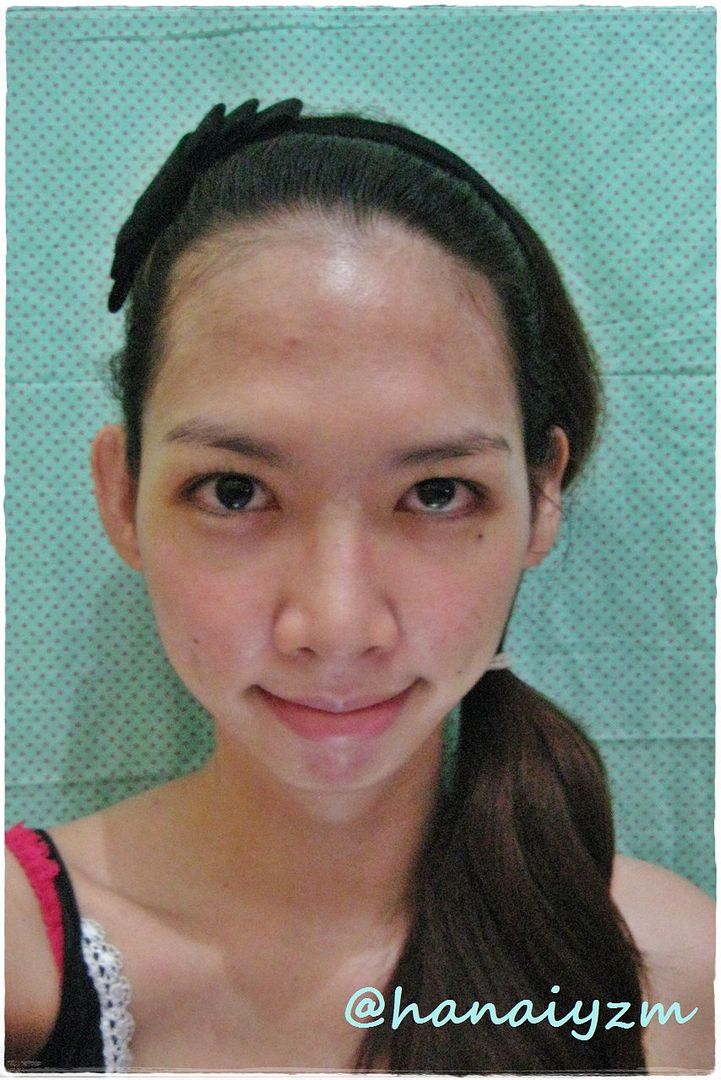 Okay this is my bare face, as you can see from the pictures before I have a lot of acne scars and blemish marks. Plus I have a mosquito bite on my forehead!!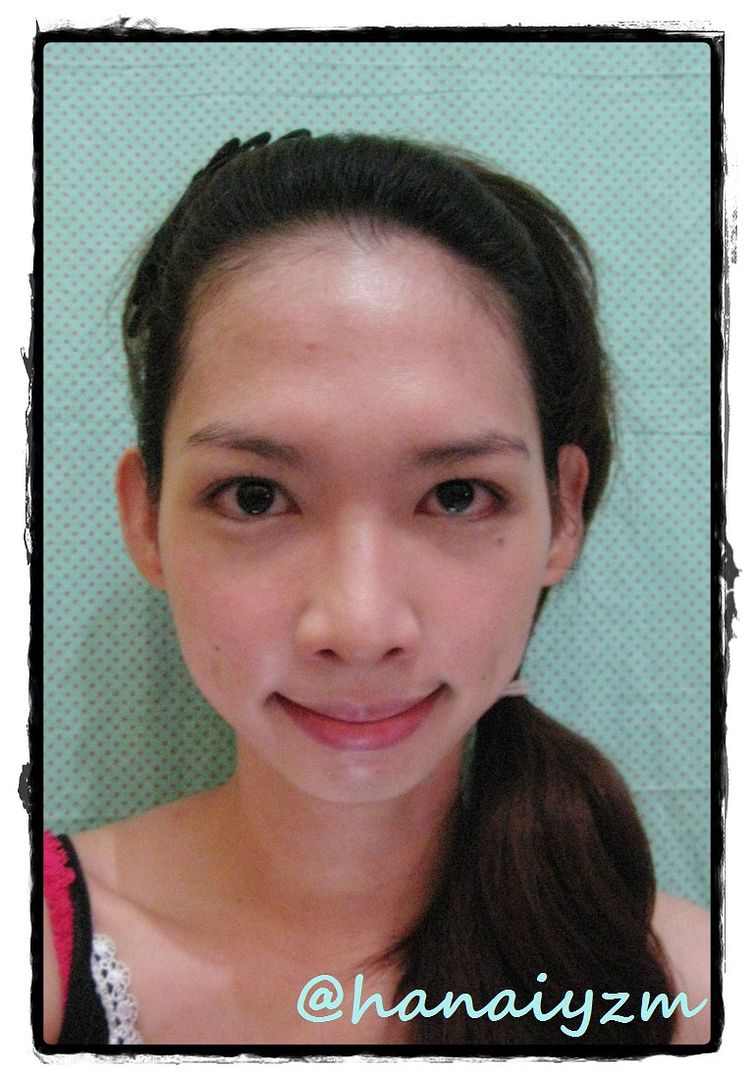 This bb cream covers my imperfection pretty well, and I think I can just go without putting any more powder. He he he
This is after I put on loose powder, the powder itself is very translucent. I just use it to set the bb cream since I don't want to feel "heavy". After that I put my usual make-up like eyeliner, mascara, blusher, lipstick and a bit highlighter.
I use this from afternoon until night for about 5 hours and it stays pretty well. I'm a bit concern because this bb cream has spf 45 and any product with spf more than 36 usually breaks me out and make my skin super oily. Luckily this bb cream doesn't break me out and doesn't get too oily too!!
The downside of this bb cream is that the full size bottle is very expensive for my student budget. It's around $31-$32 (IDR 310.000 - 320.000)!!
My Likes:
- medium coverage
- doesn't break me out
- good staying power
- good oil control
My Dislikes:
- expensive!!
Purchase??
No. Too expensive for me...