Good Evening ^^
I'm gonna make a review on a pinoy whitening soap that's not as popular as other whitening soap but I think worth to try. The soap is called Extract Whitening Soap Papaya Calamansi and it's manufactured by Splash Corporation which is the same company that manufactures Maxi-Peel products. I actually got to try two different sizes of the soap the 65 gr one that comes in a plastic wrapping and the 125 gr that comes in a box packaging and I think there's also another 90 gr size. I use both continuously for about two months. I got the smaller one for free from my brother and second one is also free from
Baterflai Tat
. YAY!! Lucky Me!!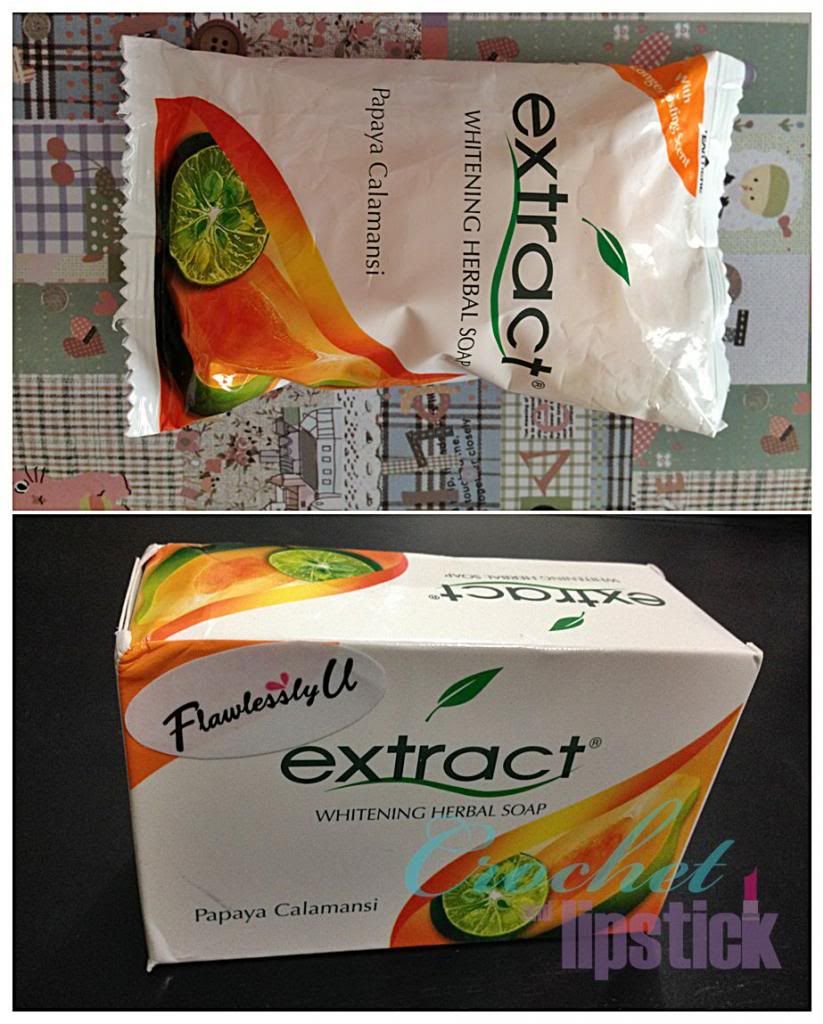 Try the new and improved Extract Whitening Herbal Soap! Puting Pantay, Bangong Tumatagal (IDK what it means but probably about getting a white skin) with Extract. With 2 potent natural ingredients - Papaya, known to effectively whiten skin, and Calamansi, known to lighten stubborn dark spots. With fresh and longer lasting scent. Enriched with vitamins and antioxidants. Extract products is said to use the a natural extract and specifically formulated to deliver intense moisturizing, natural and effective whitening while deeply nourishing skin to reveal smoother, softer, naturally radiant skin.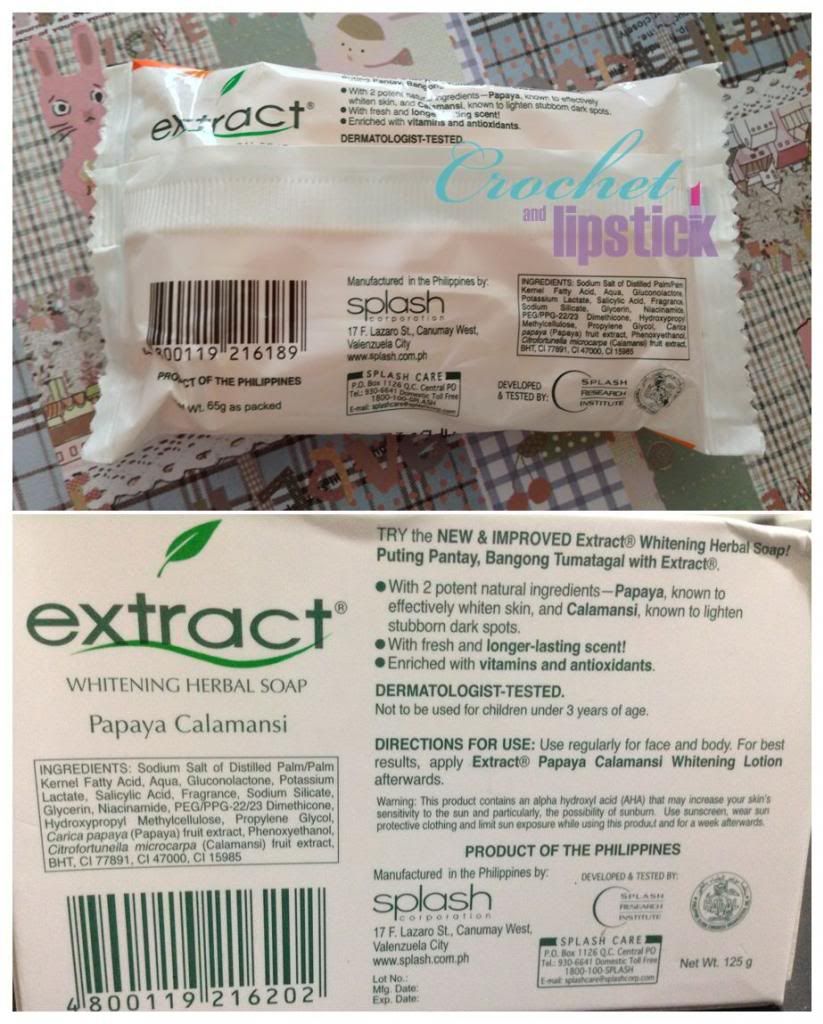 Like I said before there's I got two different sizes of the soap. The smaller one is in plastic wrapper while the bigger one is in box. Both has practically the same color design and label with an image of Papaya and Calamansi on the front. Oh what's interesting to me is that the manufacture also put halal label on the back of the packaging.
I only use the soap on my body and also on a rare occasion on my face. I didn't use it on my face often because it contains AHA that will increase skin sensitivity on to top it off I'm also on the Tretinoin regime so I don't want my face to be too sensitive. Anyway... I use the soap and leave it on my body for a few minutes while a scrub the rough parts of my body like my back, knees, elbows and parts where I have a dark pigmentation and then I lather. Afterwards I continue with a lotion that at least contains sunscreen properties.


Sodium Salt or Distilled Palm / Palm Kernel Fatty Acid, Aqua, Gluconolactone, Potassium Lactate, Salicylic Acid, Fragrance, Sodium Silicate, Glycerin, Niacinamida, PEG / PPG-22 / 23 Dimethicone, Hydroxypropyl Methylcellulose, Propylene Glycol, Carica Papaya (Papaya) Fruit Exract, Phenoxyethanol, Citrofortunella Microcarpa (Calamansi) Fruit Ectract, BHT, Cl 77891, Cl 47000, Cl 15985.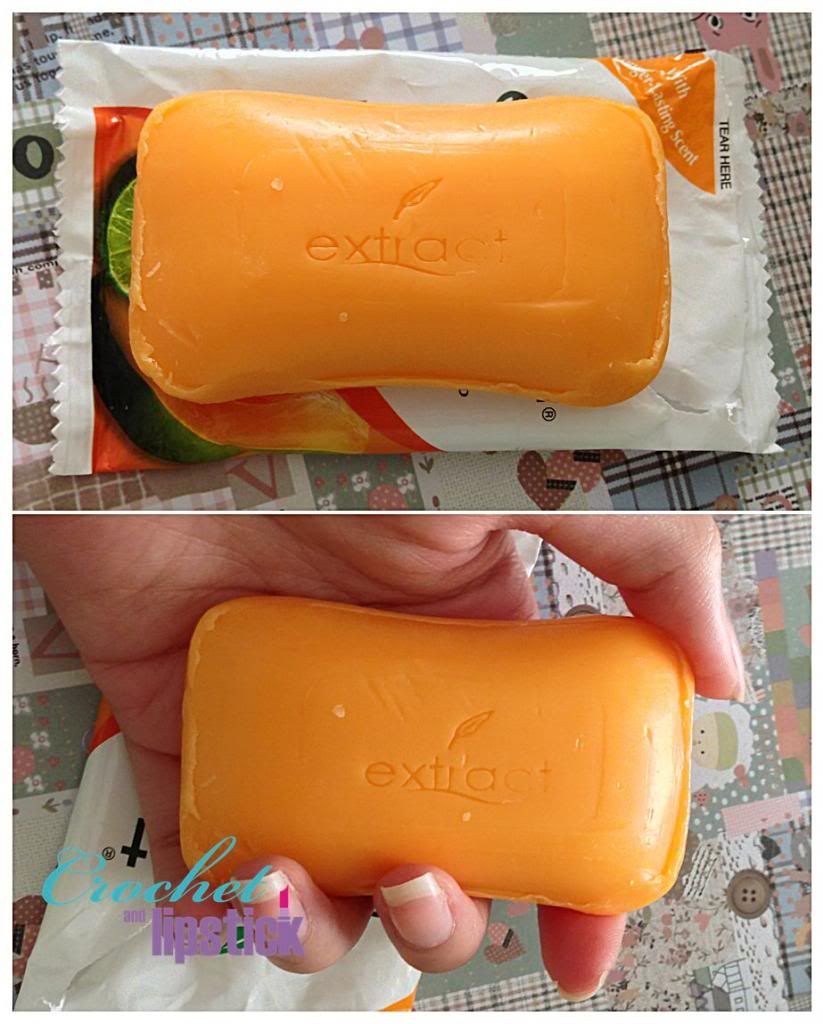 Like most papaya soap this one also has orange in color and the shape is perfect for my hand. The first thing I notice when I open the package is how lovely and fresh the scent is!! It's so fresh that I wanted to keep smelling it he he he. It also makes my bathroom smells really fresh. Oh and I put the bigger soap in my DIY soap saver to exfoliate better and it also makes a lotta foam!
I mostly use the soap on my body and not on face because I'm afraid that I'll get too sensitive but on the rare occasion that I do use it on my face I don't experience any sensitivity at all. I guess I'll have to use it on my face continuously to know exactly. As for my body sensitivity to the sun I also didn't notice any sensitivity, stinging or irritation whatsoever nor did I experience any skin exfoliation. But please also note than I'm a religious body lotion user so I always slather myself with body lotion, body butter, body cream, body serum whatever it is you called I use em all!!

So what about its whitening properties then?? Well if you read my blog you'll know that I don't use whitening products to be more white because I don't wanna look like a ghost you know. I use whitening products to lighten pigmentation, dark spot, insect bites and whatever dark discoloration that I have on my body. Although I do get complimented a lot that my skin looks glowy and more radiant after I use the soap.

So what about those discoloration then? Well I can happily say that the soap helps with a buck load of mosquito bites on my legs and it does help lighten the acne marks on my back. Plus the soap also helps prevent more bacne!! I still have bacne though now and then and I zap em with apple cider vinegar, but you know how bad the smell is right? I can only use it at night and sometimes I forgot. So the soap does helps a lot...

Last but not least is about how great the scent is!! I always love a fresh scent soap and this soap is definitely fits into the category. Oh and did you know that the body lotion also has the same scent? Sometimes I like to open the bottle just to whiff the scent #LOL. Unfortunately even though the scent was heavenly it doesn't last long on my body, it does smells great inside the bathroom and on my body but after about 10 minutes or so it was gone. The soap does still have a great scent even after it was reduce into a coin size.
- Awesome scent.
- Minimum skin sensitivity reaction.
- Lightens discoloration (bugs bite, scars, acne marks etc)
- Glowing and radiant skin.
What I Don't Like:
- The scent doesn't last long on my skin.

or maybe visit my Online Shop