Well... Since I'm not really that young anymore I've been thinking of adding anti-aging product to my skin care regime. The first product that I'm interested is an eye cream since my eyes always looks tired lately and I've been seeing or I think I've been seeing some liner here and there and it's kinda annoying. So I wanted to at least slows the aging process. Although actually by using Tretinoin at night is also works as an anti aging cream, but I can't put Tretinoin around my eye area because it's sensitive. Luckily I got some sample bonus of The Skinfood Platinum Grape Cell Eye Cream from
Intenscorner
.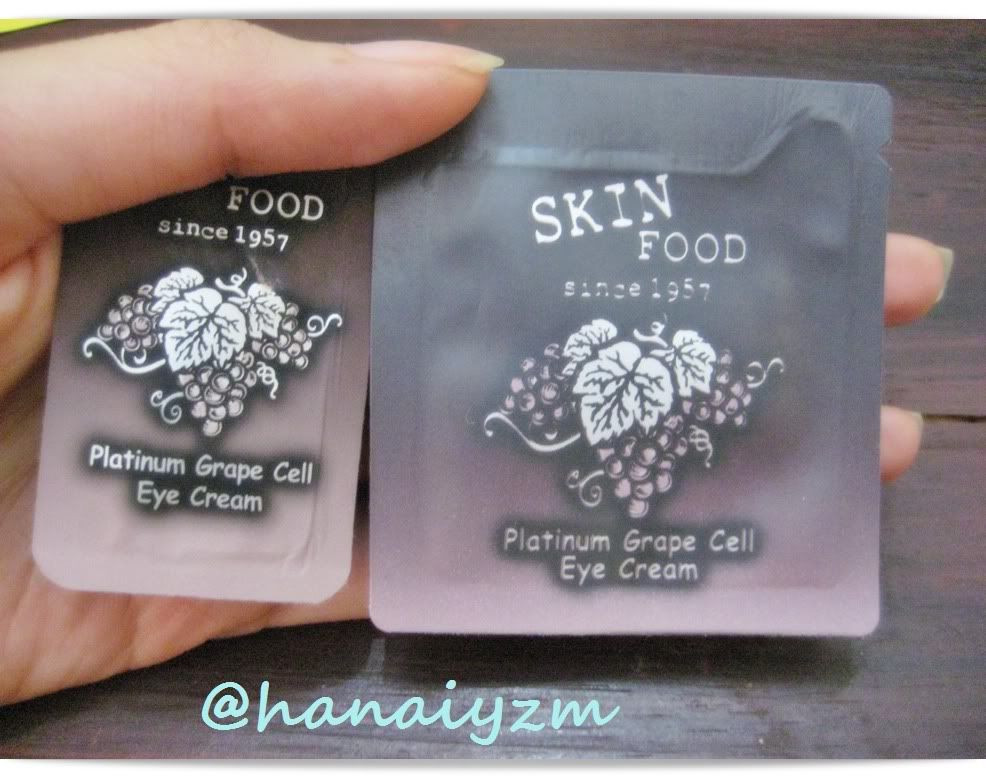 Description (taken from The Skinfood website):
A premium anti-aging eye cream containing grape cells and platinum particles that brighten and firm aging skin around the eyes from the inside out.
[Grape Cell Story]
Bourgogne is one of the three best wine producers in France. Bordeaux, Bourgogne, and Cotes du Rohone known for the Gamay grapes. Extracted from the Gamay grapes, our grape cells help regenerate skin cells, firming skin from the inside out.
[Platinum Story]
Platinum is one of the purest and rarest metals in the world. With excellent antioxidant effects, Platinum is used for Food, Medical, Cosmetics and etc.
How To Use:
After toner application, apply an ample amount onto the skin around the eyes. Pat gently for faster absorption.
The cream has a very rich texture and it took a while for the cream to absorb. The first time I use this eye cream it felt really sticky so the next time I use it I reduce the amount of the eye cream but unfortunately it still feels a bit sticky even tough it's less stickier than the first time I put it on my eye. Because it's a bit sticky, I only use it at night and not in the day time before I put on make-up because the stickiness will definitely ruin my make-up.
This eye cream do not have any noticeable scent and since I only use it at night and in a tiny amount too, 2 sachet of this eye cream can last for about two weeks. After two weeks I don't really notice any difference with my dark circle although it does makes my eye firmer and not look tired. For my lines I don't notice any difference but I don't have any more lines either at the time I'm using this eye cream. BTW my eyes are quite sensitive but luckily when I'm using this product I don't have any reaction at all.
My Likes:
- makes my eyes firmer.
- doesn't give any reaction to my sensitive eye
My Dislikes:
- takes a while to absorbs.
- felt sticky.
- doesn't improve my dark circle and lines (but then again it's only been two weeks).
Purchase Full Jar?
No... It's quite expensive and doesn't have a results that's any better with my dermatologist eye cream that's far more cheaper than this eye cream.
Visit My Online Shop